Custom One Off Boxes
Here you will find exciting one off treats and amazing products. High quality, great brands, and the ability to choose your own treats inside your box for the most exciting delivery box possible. Perfectly suited for natural skincare enthusiasts, eco warriors, and deserving women everywhere, these treats are worth raving about. MyTreat boxes deliver a little bit more self-love and a whole lot of beautiful, natural skincare for you to enjoy. Build a Box deliveries are dispatched throughout the week so you don't have to wait to the 25th of the month when our main subscription boxes are sent. Each of our one off products are available in very limited quantities so build your box below before these treats sell out... Add the items you want to the cart then use your special code at checkout to redeem your build a box discount.
By Nature Skincare has created a powerful natural face mask that includes the goodness of Seaweed and Aloe Vera to give your face some much needed TLC. New Zealand made, cruelty free and made from natural ingredients, pop the mask on your face and put your feet up for 10 minutes and enjoy some pampering in the comfort of your own home.
These high quality bamboo toothbrushes are carefully crafted from renewable, and sustainable bamboo. The bristles are nylon which are essential for looking after your teeth – we will not compromise on this. The bamboo toothbrush can be popped in the garden or waste after the bristles are removed, where it will happily biodegrade. Our natural floss comes in a recyclable glass bottle. This is reusable – simple pop in a refill and you are good to go again – reducing waste. We have 2 options – silk floss which is 100% biodegradable and a charcoal bamboo floss. This is nylon based but the bamboo charcoal increases the biodegradability. Packaging of both the bamboo tooth brush and floss is recyclable cardboard.
Made with the purest Konjac and mineral extracts, Nudi Point Konjac sponges deeply cleanse, gently exfoliate and detoxify your skin for a radiant complexion. Gentle enough for sensitive skin and packed with minerals and antioxidants all while being colour and additive free, Konjac sponges are the ultimate in natural, effective skin care.
Ideal if he is keen to soften those chops or hydrate his hard working skin, he will love this natural NZ made treat. Protect and nourish your face or body with this light travel-friendly moisturiser in a handy flip-top oval tube. Light and fast absorbing, with almond oil to hydrate and essential oil of bergamot for skin balance.
The man in your house will love this handy 200ml body wash, loaded with essential oil of cypress to invigorate and natural olive oil to hydrate and smooth, this effective shower gel in a practical oval tube is a great natural cleanser. Containing naturally active essential oils and zero parabens, synthetic colours and other nasties, this is an ideal product for everyday use and is also suitable for dry and sensitive skin.
Get instant shine while detangling those knots with the Angel diamond gloss shine spray. This great shine and conditioning spray has a light gloss control and will not overburden your hair. Ultra-fine spray smooths stressed hair and adds a brilliant shine feeling very light on the hair. Apply 4-5 sprays to damp hair from roots to hair ends and style as desired.
This intensive re-constructor/treatment repairs weakened hair and will assist in repairing chemically treated or damaged hair. It's deep penetrating action takes place when applied to your freshly washed hair, its combination of milk protein, honey, keratin and silk amino acids are activated when the treatment is left on your hair for just 5 minutes. Natural pH balance is restored and your hair is fully repaired and left feeling brand new with an incredible shine.
This boxed hand cream is one of our favorites and will leave your hands feeling soft and smelling amazing. The fragrance from the Crystal crush Amethyst nourishing hand cream lingers on your hands, even though this is a non oily fast absorbing hand Cream. Containing sweet almond oil, shea butter and vitamin E to nourish, replenish and protect your hands. The perfect size to have floating around in your handbag or just left in the car for all day around hand nourishment.
Eye cream may sound like something you don't need until you're older, but it's smart to start using it early as an investment in your future skin. The skin around your eyes is incredibly thin and using your regular moisturiser may be too rich causing some skin issues like milia. Goodness twice a day eye cream is soft, delicate and fragrance free. It helps your eyes to look and feel amazing. With witch hazel, coconut, avocado, and chia goodness you will hardly know it is even there until you look in the mirror. "This product sinks beautifully into the skin leaving no residue. The smallest amount is needed whilst alleviating those dark circles" was just one of the positive reviews on this ah-mazing product.
Using natural, organic, chemical free products reduce the risk of having unwanted elements absorbed through your skin and that is where Aoteoroad Natural Deodorant comes in. Aotearoad Natural Deodorant is hand made in NZ with aroha and is good for you and good for the planet. Free of Aluminium and anything that even sounds like a chemical, Aotearoad is proud to offer their natural deodorant, a potent formulation made up off 100% natural ingredients to combat odour causing bacteria.
The positive feedback and five-star reviews that Aotearoad is receiving about this product meant that it was a no brainer to include one of these beauties into our recent Detox box.
Amy Cryer said "I would just like to say I've recently started using your deodorant stick and I love it! I've tried a few different natural deo's now but I've found they don't last as well! I'm a nurse working 12 hour shifts in a busy intensive care unit and it lasts me the whole shift and even through high intensity workouts! I've been telling my friends how amazing it is! Thanks for making such a great product".
Nudi Points Black to white charcoal teeth whitener can help to remove the surface stains on our teeth from coffee, wine, smoking and our diets. As well as stain removal this product can strengthen your gums, remove unwanted toxins from your mouth and absorb bacteria to give your teeth that sparkling white glow you have always wanted. Nudi Points Black to white charcoal teeth whitener is made with 100% natural activated coconut charcoal and is sure to impress you and those around you with how well it works.
Swap your moisturiser for this natural Rata & Co Superfood face oil with organic NZ Flaxseed oil. A superfood skin brightening face oil with NZ flaxseed oil, this treat helps bring back your skin's radiant vitality and healthy glow. Rata & Co have been able to combine the best organic antioxidants and omega rich fatty acids to create an extra concentrated blend of oils to replace your daily moisturiser.
If you have oily skin, the natural ingredients in face oil tricks your skin into thinking it already has enough oil but for dry skin the soothing attributes help to lock in moisture by forming a protective barrier and refreshing pores. This is what makes face oil great for dry, oily or combination skin with just a few drops for your whole face!
Organic NZ flaxseed oil is particularly high in omega 3 fatty acid being beneficial for dry skin and contains both omega-6 and omega-9. With the non greasy feel this Rata & Co superfood face oil is a great option to soothe your dry irritated winter skin.
Have you heard of Alya Skin? This brand has taken Australia (and the world) by storm with their high quality skincare products. This Native Berry Moisturiser is ideal for all skin types. Developed with a revitalising complex of 3 antioxidant super-berries, the Australian Native Berries Moisturiser deeply replenishes and hydrates the skin. This nourishing cream absorbs quickly, infused with a blend of anti-aging vitamins, softening butters and oils to restore a super-soft, radiant complexion.
Pepperberry – Rich in antioxidants.
Riberry – Contains vitamin E to protect skin from external aggressors.
Muntries – Rich in anthocyanin, known for its anti-aging properties.
Vegan
Cruelty-free
Safe for sensitive skin
We are all born with a beautiful natural glow, but as our skin ages we start to lose our natural glow. Beauty Tofu collagen wand will help to repair and restore uneven skin tone, bumps, wrinkles, enlarged pores, scars and even stretchmarks.
The mini pin pricks open up your skin's pores, stimulating the lower layers of the skin which will in turn regenerate your collagen production. This wand works magic to assist in new collagen production creating a complete cellular regeneration!
Beauty Tofu's organic temple detox can be used internally or externally to cleanse your temple from tip to toe.
Whether you suffer from problematic skin, digestive issues such as bloating, constipation or gas, skin disorders, body odour or you're simply just wanting to flush the toxins and impurities our bodies so easily collect these days this product is for you.
Are you a massive fan of coffee? Then you will love to lather yourself in this sweet scented Vanilla Latte Soap, handcrafted in New Zealand from the highest quality ingredients. Paraben and chemical free, this natural soap is made with coconut oil and will leave you feeling hydrated and help remove the most stuck on dirt and dust.
This beautiful facial scrub is packed with the vitamins, mineral and anti-oxidants you need for gorgeous, clear and healthy skin. Contain extra fine coffee powder ensuring it is gentle when scrubbing your sweet cheeks. Enriching skin with extra virgin Coconut Oil, Vitamin E and Sweet Almond Oil so you're left soft and very hydrated. Perfect for scrubbing away dry, dead and flaky skin so you can be assured your complexion is smooth at all times. Containing Witch Hazel, Tea Tree and Lemon Oil to clean pores, remove excess oil, dry out pimples and treat acne with my antibacterial properties.
100% Natural
No Parabens. No Fillers and No Nasties
Cruelty FREE and Vegan
This New Zealand made night creme is from one of our favourite brands. Why do we love them? Because they have grown from a small backyard garage business into one of New Zealand's leading skincare operations. Manufacturing in house means they can source New Zealand ingredients and ensure the quality of each of the By Nature creams, lotions, and serums leaves the warehouse in perfect condition, and without Parabens or chemical nasties, no animal testing (EVER), and a commitment to making great skincare affordable for everyone.
This night creme is one of their hero products, infused with organic rosehip this cream can be applied at night to help reduce fine lines and improve skin tone. Rosehip is high in antioxidants, helping your skin to repair itself, and leaving it feeling firm and smooth with every use. You will NOT find organic rosehip products for better value than what the By Nature range offers, it is only due to their size and scale that they can create such beautiful products for amazing prices.
The perfect accompaniment to go with your new night creme, this By Nature Day Creme is non greasy and has a subtle fragrance, so you can apply it in the morning before your makeup without any hassles. More easily absorbed than the night creme, this New Zealand made Day Creme is the perfect protection to purify your skin against the day while making sure to still include organic rosehip to load your face up with natural antioxidants to help maintain a fresh complexion and repair fine lines and wrinkles.
Lighter than a day creme, this serum creates a soft and even base with a refreshed and glowing effect - ideal as a base before makeup and for an added boost of radiance. Combined with the added benefits of nourishing skin nutrients Organic Rosehip Oil, Argan Oil and Collagen this little multi tasker also helps hydrate and restore skins moisture levels after a long day. Gentle formulation melts into the skin, a treat for even the most dehydrated skin.
Another refreshing beauty treat from By Nature. Loaded with New Zealand Organic Rosehip this facial cleanser also contains Hyaluronic Acid which will help your skin retain moisture, ideal at this time of year as we all work and live inside artificially heated spaces. If you are looking for a great all round facial cleanser to wake skin up in the morning and wash off the dirt and build up from a busy day at night, you will love this generous sized By Nature product.
For daily use
Removes makeup and excess oils
Deep cleaning yet gentle
Softens
For all skin types
Non-comedogenic (won't block pores)
Put your best feet forward for spring and summer with this soothing By Nature foot scrub. This gentle, cooling scrub is made from fully biodegradable, environmentally friendly clay beads - no nasty plastic microbeads here! Infused with Manuka Honey, Aloe Vera & Vitamins A, C & E for soft and conditioned skin. Peppermint helps relieve tired foot and leaves a fresh scent to your newly polished feet.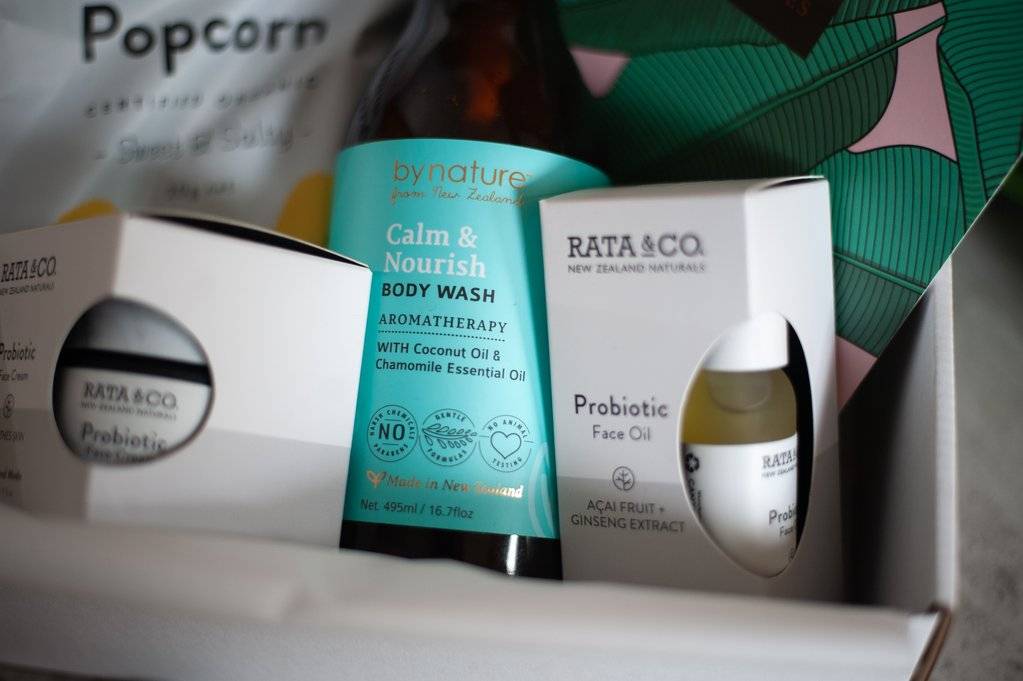 A huge 495ml New Zealand made Body Wash, enriched with coconut oil and naturally extracted chamomile essential oil so it will support relaxation before bed. The Aromatherapy Body range from By Nature Skincare is gentle on skin, natural, and is large enough to last for ages. By Nature Body Wash is made using a natural extraction process which means the molecule count is higher, this helps to ensure our limbic system can absorb the active ingredients inside and help send him off to sleep feeling calm, clean and beautiful.
---
This hydrating day creme with coconut oil will leave your skin feeling soft and nourished. Infused with Hyaluronic acid, Aloe vera, Vitamin E and Rosehip for intensive hydration all day long. This light and non greasy hydrating day cream wont block your pores and will leave your skin feeling nourished and ready to face the day.
Apply liberally to the face and neck area in the evening after cleansing - before skin cream application. Including antioxidant rich Rosehip Oil to repair and restore your skin while you sleep and Hyaluronic Acid to enhance moisture content beyond comparison. It also revitalises skin's outer surface layers, so they look and feel softer, smoother and radiantly hydrated. This instantly improves the appearance of fine lines and wrinkles.
This deeply nourishing night crème with Coconut Oil will help restore the skins lost moisture working to balance and tone for a rested and radiant complexion. Apply liberally to the face and neck area in the evening after cleansing and drift off to sleep knowing that you are being replenished by nature.
This rich and rejuvenating By Nature Eye Crème is full of natural goodness to help improve the appearance of dull skin and create a radiant complexion. Being collagen enriched makes this an extra special products for your eyes as it will help to hydrate your skin as well as brighten the skin beneath your eyes to give a firm overall look. Gently apply to the delicate skin around the eye area morning and night and you will see results within 7 days.
Whats inside?
Coconut Oil
Rosehip Oil
Aloe Vera
Hyaluronic Acid
Argan Oil
Vitamin A
Nature's botox in a tube! By Natures iconic Bee Venom Face Crème tightens and plumps the skin for visibly lifted and rejuvenated skin. Apply to cleansed face avoiding the eye area - for best results use 3 times a week to leave your skin firm and glowing for summer.
WARNINGS
PRODUCT CAUSES STINGING EFFECT
DO NOT USE IF YOU HAVE A BEE ALLERGY
NOT SUITABLE FOR SENSITIVE SKIN
PATCH TESTING PRIOR TO USE IS RECOMMENDED
This light By Nature serum as been formulated specifically for the delicate eye area for a refreshed and glowing effect - ideal as a base before applying eye creme for a boost of radiance. Designed to brighten and soften for an instant pick me up for tired eyes. This lovely light weight serum melts into the skin leaving the eye area visibly softer and firmer. Combined with the added benefits of nourishing skin nutrients Organic Rosehip Oil, Argan Oil and Collagen this little multi tasker also helps hydrate and restore tired eyes moisture levels after a long day.
A nutrient rich blend of organic botanicals with an abundance of powerful antioxidants and omega rich oils created to rejuvenate, repair, protect and soften your skin. Ideal for use following a masque, this beautiful oil is genuinely natural made from only the absolute highest quality ingredients and will improve the appearance of ageing skin. Once we hit 30, the natural oils in our skin are more affected by our diet, and lifestyle, this oil will help balance your skin to leave you looking youthful and glowing.
I was introduced to this treat by Sophie at Ahhh Cosmetics, these all natural sugar scrub cubes contain hydrating coconut oil, so as well as exfoliating your body from head to toe, your skin will feel nourished and soft. With enough for at least 10 showers inside each plastic free pouch, this treat will last all month and leave your skin glowing.
This whipped cream is a luxurious sugar scrub ideal for all skins types but aimed at those with oily skin. This scrub offers complete exfoliation combined with natural hydration. Gentle powers of ground Apricot kernels give a smooth and flawless finish to your beauty regime. This scrub is thick & creamy and has the right amount of apricot shell powder & sugar to get your skin feeling smooth.
This whipped cream is a luxurious sugar scrub ideal for all skins types but aimed at those with dry and dehydrated, mature skin. If you've been looking at your legs in the sunshine, thinking they could do with some serious hydration, this scrub offers complete exfoliation combined with natural hydration. Gentle powers of ground walnut shells give a smooth and flawless finish to your beauty regime. French pink clay enhances the blend. French pink clay is a gentle clay suitable for sensitive skin. It helps stimulate the circulation to the skin whilst gently exfoliating and cleansing it. French Pink clay does not draw out the oils from the skin therefore it can be used on dry skin types and mature skin.
Nova Rose bud and Pink Salt Detox Bath Brew is an all natural, all organic and vegan and gluten friendly pink salt mix with rose buds specially crafted to detoxify the body.
With epsom salts to relax and soothe the body and himilayan pink salt to relax, detoxify and deeply cleanse the body, this is the perfect bath brew for your relaxing bath or foot soak
Enriched with Collagen, Argan Oil, Lanolin, Co-enzyme-10 and Magnolia Bark Extract - used for centuries in Chinese medicine thanks to its anti-inflammatory properties and good source of anti-oxidants, this Night forumula Cream is an advanced, highly concentrated moisturiser that provides intense skin hydration. The enhanced blend of natural ingredients effectively nourishes and revitalises the skin, leaving it soft and vibrant. This New Zealand made product contains no colour additives, making it hypoallergenic and suitable for all skin types, even the most sensitive.
Enriched with Collagen, Argan Oil, Lanolin, Co-enzyme-10 and Magnolia Bark Extract - used for centuries in Chinese medicine thanks to its anti-inflammatory properties and good source of anti-oxidants, this Night forumula Cream is an advanced, highly concentrated moisturiser that provides intense skin hydration. The enhanced blend of natural ingredients effectively nourishes and revitalises the skin, leaving it soft and vibrant. This New Zealand made product contains no colour additives, making it hypoallergenic and suitable for all skin types, even the most sensitive.
New Zealand made firming eye serum, highly concentrated yet light to apply. Infused with anti-inflammatory and antioxidant rich Licorice Root Extract, soothing Witch Hazel Water and regenerating Co-enzyme 10. For instant uplift to tired eyes and to help with fighting the fine lines and signs of ageing.
Probiotic Face Cream has a special formulation of soothing Probiotic Milk Peptide & Omega Rich Plant Extracts combined with natural fruit antioxidants to target stressed and dull skin. Rich yet light, this intensive cream melts effortlessly into the skin – for radiant skin every day. Rata Probiotics use a special Milk Peptide to help with skin renewal and act as a healthy skin barrier. To really supercharge our formulations we pack in Omega 3 & 6 and Antioxidants - all sourced from plants and fruits for pure, natural nourishment.
The skin around your eyes is the most delicate on your face, start treating your eyes and use an eye cream that is gentle and light yet intensive and nourishing to help with the dark circle, fine lines and puffiness.
The Rata & co probiotic eye cream is packed with natural fruit antioxidants, soothing probiotic milk peptide and omega rich plant extracts to create an intensive yet soothing cream that melts effortlessly into the skin, a perfect addition to your skincare routine.
This creamy lip butter is handcrafted in New Zealand and made with Shea Butter, Coconut Oil, Mango Butter, Beeswax, Lime Essential Oil.
Nudi Point lip butters will leave your lips feeling hydrated and soft. It also smells amazing.
This daily body wash will actively remove the dead skin cell built up over time to clarify and brighten the appearance of tattoos using a selected blend of active ingredients. This natural formulation is scientifically developed to improve the appearance of Tattoos so you can get that fresh Ink look once again.
The handy pump bottle means he can apply this one on the run for bright and beautiful tattoos. This innovative new product helps protect your tattoo and skin whilst keeping it fresh, nourished and defined.
This Electric Ink Tattoo Vibrancy Serum maintains pigment and promotes vibrancy of tattoo whilst hydrating skin. This unique tattoo body serum includes a selected blend of skin nourishing actives. It's main uses are enhancing colour, evening out your skin tone and soothing fine lines and wrinkles.
If you have tattoos, you will love the whole Electric Ink range. Moisturising whilst delivering gloss and clarity for that fresh ink look. Packed with essential ingredients that hydrate your skin. This unique tattoo aftercare Defining Oil is a selected blend of skin nourishing actives.
A luxury and natural Repair Cream that contains a wide variety of actives to protect and aid the recovery of damaged skin immediately after tattooing. The lightweight formula isn't too greasy, allowing your tattoo and skin to breath during recovery.
This rose geranium natural deodorant offers you an aluminium-free deodorant with nourishing butters and oils and a hint of gorgeous rose geranium.
Little Mango deodorants are made in New Zealand from 100% natural ingredient: shea butter, mango butter, coconut oil, tapioca, sodium bicarbonate, sweet almond oil and essential oils. A pea size amount will offer you all day protection.
Our skin can always be helped by an extra boost of hydration, which is why this gel mask was formulated with aloe vera to treat dryness and offer an effective treatment for dry skin.
Skye candle & body care aloe vera gel mask has all the benefits of aloe vera packed inside from hydration to healing properties and everything in between this gel mask will help to improve skin elasticity and collagen levels on the skin while helping to fight facial wrinkles and prevent those fine lines.
Gorgeous George Way To Glow mask is made with pink clay to help remove impurities from your skin. Packaged in it's bright colours, funky patterns and pop art, this mask is New Zealand made, cruelty free and made with natural ingredients. A few the ingredients in this Way to Glo Sheet mask are: aloe leaf juice, flower water, kaolin, shea butter, rosehip oil, coconut oil, and jojoba oil. The natural clays and activated rosehip oil in this mask will draw out all that trapped dirt and oil to leave you with instantly fresher skin. Pop the mask on your face, put your feet up and enjoy some pampering in the comfort of your own home.
The best selling Agnes & Me Blam Blam Balm is a nourishing repairing beauty balm, created with beautiful antioxidant rich oils and butters including nature's wonder, organic rosehip oil, to assist skin rejuvenation, repair and healing, the amazing anti-inflammatory organic hemp seed oil and anti-wrinkle evening primrose oil. Blended essential oils soften, smooth and hydrate the skin. It even smells sensational.
Okana's Cucumber and lettuce mist toner is made with only 7 ingredients and is 100% natural, safe and edible. This toner will help to even your skin tone and neutralizes your pH balance, providing the ultimate finishing touch to any cleansing ritual.
The ultimate mist to tone, refresh, and set makeup.
This smoothing Microdermabrasion cream removes dead skin cells while the vitamins and botanicals nourish and replenish the brand new skin underneath. Your skin will be left feeling baby soft and rejuvenated indeed! An amazing treatment for uneven skin tone, fine lines and wrinkles, scars, stretch marks, pores and spots. The best part, it is completely natural, and ground crystals are used to gently resurface your skin, made in New Zealand this product is quickly becoming more popular as one of the most effective at home microdermabrasion treatments available on the market.
---