Build a Box For Dad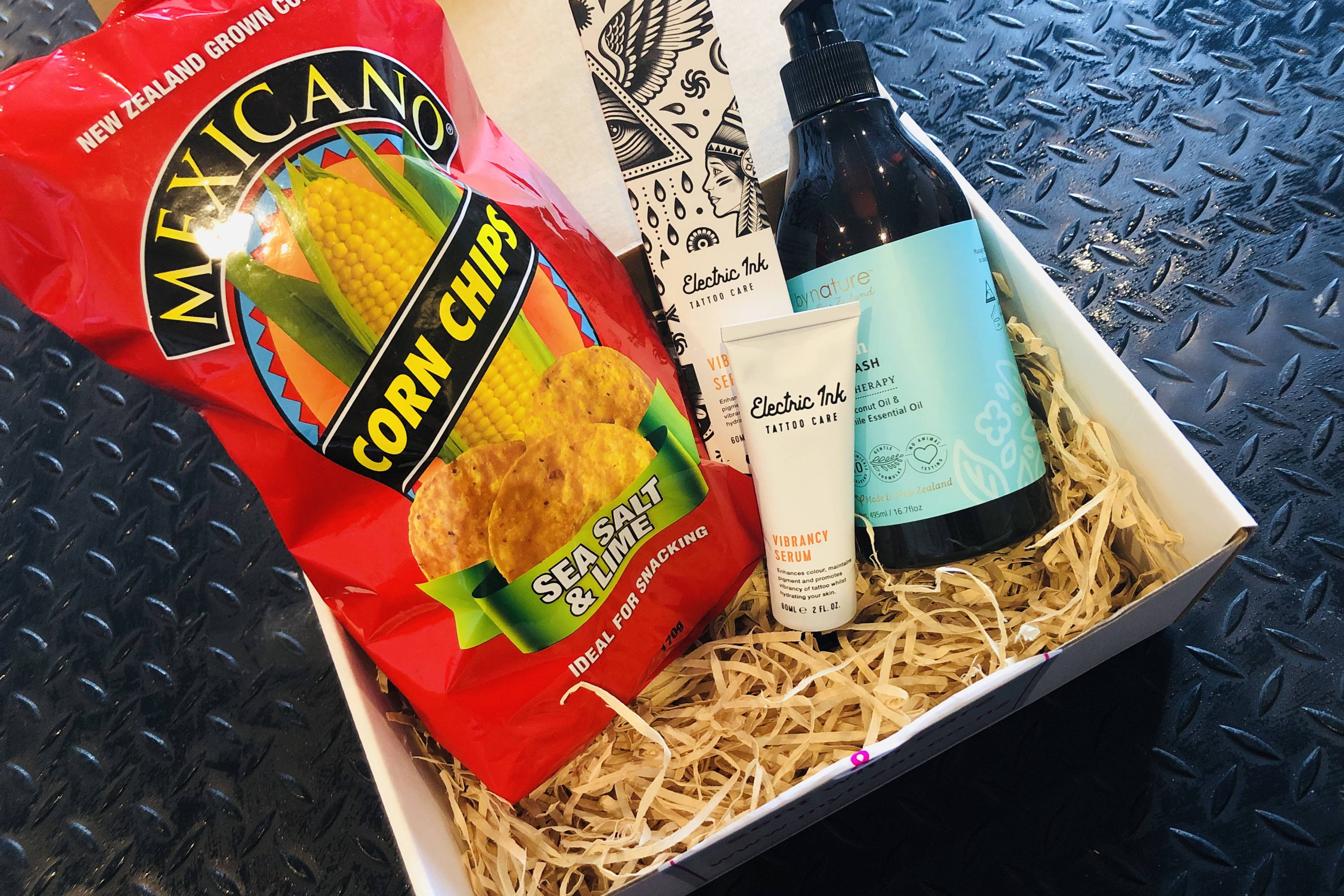 Build your Dad a box with treats he will love to use... We do have a specialty box if you don't want to build a custom box, however this option lets you create a box loaded with specific products for your dad. Every box includes a FREE fudge and a FREE 'Best Dad Ever' Keyring. Fathers Day boxes are posted next week, and orders will close soon so don't miss out.
Or scroll down to add the treats you want to your cart and checkout with your discount code to save BIG on these amazing brands.
---
If Dad is on the road for work then he will love this handy 200ml body wash, loaded with essential oil of cypress to invigorate and natural olive oil to hydrate and smooth, this effective shower gel in a practical oval tube is a great natural cleanser. Containing naturally active essential oils and zero parabens, synthetic colours and other nasties, this is an ideal product for everyday use and is also suitable for dry and sensitive skin.
---
Seasalt & Lime... Dad will love a snack inside his Fathers Day box, this way you've got all the bases covered! The perfect body box of course includes treats for his skin, but by adding something yummy you know he will be able to indulge straight away, and this bag is big enough to share around! Yummmmm!
---
A huge 495ml New Zealand made Body Wash, enriched with coconut oil and naturally extracted chamomile essential oil so it will support relaxation before bed. The Aromatherapy Body range from By Nature Skincare is gentle on skin, natural, and is large enough to last for ages. By Nature Body Wash is made using a natural extraction process which means the molecule count is higher, this helps to ensure Dad's limbic system can absorb the active ingredients inside and help send him off to sleep feeling calm and clean.
---
Does dad have a sense of humour? Does he love rugby? Is he in need of a conciliatory gift after the recent tumultuous month of Rugby results? This Linden Leaves Rugby Soap is all natural and made in New Zealand. Scrub up in style! Cleanse and protect his skin against bacteria and odour with this quality triple milled vegetable soap infused with naturally anti-bacterial essential oils of rosemary and cypress for long-lasting freshness. With handy rope to hang in the shower this rugby ball soap is an essential and effective item for all rugby fans.
---
A luxury and natural Repair Cream that contains a wide variety of actives to protect and aid the recovery of damaged skin immediately after tattooing. The lightweight formula isn't too greasy, allowing your tattoo and skin to breath during recovery.
---
This Electric Ink Tattoo Vibrancy Serum maintains pigment and promotes vibrancy of tattoo whilst hydrating skin. This unique tattoo body serum includes a selected blend of skin nourishing actives. It's main uses are enhancing colour, evening out your skin tone and soothing fine lines and wrinkles.
---
If Dad has tattoos, he will love the whole Electric Ink range. Moisturising whilst delivering gloss and clarity for that fresh ink look. Packed with essential ingredients that hydrate your skin. This unique tattoo aftercare Defining Oil is a selected blend of skin nourishing actives.
---
This daily body wash will actively remove the dead skin cell built up over time to clarify and brighten the appearance of tattoos using a selected blend of active ingredients. This natural formulation is scientifically developed to improve the appearance of Tattoos so Dad can get that fresh Ink look once again.
---
The handy pump bottle means he can apply this one on the run for bright and beautiful tattoos. This innovative new product helps protect your tattoo and skin whilst keeping it fresh, nourished and defined.
---
Introduce him to the powers of this effective natural deodorant. This is one of the best to come across our desks and given how much blokes can small by 5pm, there is no chance we would send him something that is not going to work. This effective deodorant is aluminium free, with a subtle scent that masks even the hardest working Dads out there. There are a lot of natural deodorants out there at the moment and what we love about this one is the packaging, not only is it eco friendly but replicating a roll on means he won't need to get his hands dirty to apply this one.
---
Is your Dad a massive fan of coffee? Then he will love to lather himself in this sweet scented Vanilla Latte Soap, handcrafted in New Zealand from the highest quality ingredients. Paraben and chemical free, this natural soap is made with coconut oil so if he does work outside in the elements, or come home with hands that a manicure wouldn't even fix, this soap bar will leave him hydrated and help remove the most stuck on dirt and dust.
---
Dad will love this natural NZ made treat, ideal if he is keen to soften those chops or hydrate his hard working skin. With essential oil of cypress to invigorate and natural olive oil to hydrate and smooth, this effective shower gel in a practical oval tube is a great natural cleanser.
---